R J Reynolds Senior High School
Class Of 1962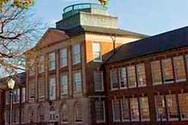 To: 1962 RJR Classmates
From: Cam Dize Matthews, Reunion Chair 973.222.3024
Based on your overwhelming requests for another reunion (even though, according to our good friend Danny Ferguson, we are older than dirt) we are planning a 60th Class reunion. The dates are:
October 6-7, 2022
The main event will be Friday night, the 7th. We are planning to do a repeat of the fabulous event we had for the 55th:
3:00 Gather outside at 404 Swan Drive next to Cam's family's lake.
4:30 or so An early but delicious dinner.
Stay as long as you like.
We picked Thursday and Friday as days for our reunion because hotel rates are cheaper and it will not interfere in any other weekend plans you may have. If you plan to stay in a hotel, we recommend one of 3 hotels downtown: There is no official hotel this year although we may stock a hospitality suite at the Marriott Bonvoy if folks want it.
---
Hotel Options:
Mariott Bonvoy, 425 Cherry Street, 27101 336-725-3500 (near Benton Convention Center) Identify yourself as a member of the RJ Reynolds Class of 62 for the special $149 rate. We are holding 10 rooms at this hotel.
Marriott Courtyard, 640 W. 4th Street, 27101 336-917-3038 (next to Foothills Brewery)
Indigo, 104 4th Street, 27101 336-722-0720 (corner of Liberty and 4th)
To complete our planning we need some information from you:
1. Update your contact information on the website- RJReynolds1962.net
2. Please fill out the survey on the left to indicate whether you plan to attend.
We will send more specific information about registration and costs later.