R J Reynolds Senior High School
Class Of 1962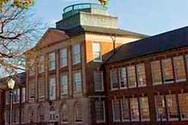 In Memory
Janet Bailey (Gordon)
Dear fellow classmates,
It saddens me to report that we lost another of our great classmates. On September 2nd, 2021, Janet Blanche (Bailey) Gordon passed away. Our deepest condoences go out to her family, including her husband of over 50 years, John Weldon Gordon, Jr. and her sister, Barbara Bailey Morgan. Herewith is Janet's obituary psoted in the Winston Salem Journal on September 4th.arch
Janet Bailey G
BORN
1944
DIED
2021
FUNERAL HOME
Hayworth-Miller Funeral Home - Winston-Salem
3315 Silas Creek Parkway
Winston-Salem, NC
UPCOMING SERVICE
Visitation
Sep, 7 2021
1:00p.m.
Hayworth-Miller Funeral Home - Winston-Salem
Gordon, Janet Bailey

May 16, 1944 - September 2, 2021

Mrs. Janet Bailey Gordon, 77, died Thursday, September 2, 2021 at Oak Forest Rehabilitation Center. She was born May 16, 1944 in Forsyth County to the late Robert Elwood and Blanche Yates Bailey. She attended R.J. Reynolds High School and Elon College. After graduation from Elon, she began her career at Bellsouth (AT&T). She continued her parents' rental business until her death. She enjoyed entertaining at High Rock Lake, fishing at the coast, and spending time with her family. In addition to her parents, she was preceded in death by her daughter, Michelle Gordon. Surviving is her husband of over 50 years, John Weldon Gordon, Jr. and her sister, Barbara Bailey Morgan. A funeral service will be held at 2:00 PM Tuesday, September 7, 2021 at Hayworth-Miller Silas Creek Chapel with Rev. Kevin Kilbreth officiating. Burial will follow at Forsyth Memorial Park. The family will receive friends one hour prior to the service. In lieu of flowers, memorials may be made to the Forsyth Humane Society, 4881 Country Club Rd., Winston-Salem, NC 27104. Online condolences may be made at www.hayworth-miller.com.

Hayworth-Miller Silas Creek Chapel

3315 Silas Creek Parkway Winston-Salem, NC 27103