R J Reynolds Senior High School
Class Of 1962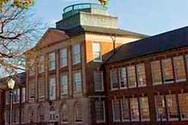 Great Weather, Great Crowd, Great Time for a 60th Reunion!

Hurricane Ian departed Winston-Salem just in time for our Sunday gathering at ROAR, our city's newest entertainment venue. Classmates gathered at Est! Est!! Est!!!, just one of the many food options in the building, for a wonderful Italian buffet.
Coming from farthest away were Bob Witherington from Denver, Colorado, and Charles McEwan and his wife from Austin, Texas. The Extra Effort Award went to Dianne Pfefferkorn Hobbs who drove to Wilson and back to pick up Bonnie Forest Boles for the events. Do you remember the members of our class named Best Looking by our annual? Well check out the pictures; Phil Hightower and Betty Wilson Johnson still look awfully good. Most successful surgery award went to Dave DeRamus who had a knee replacement on Tuesday before the Sunday event. He did have a walker but insisted that he did not even need that. Our fabulous communicator Danny Ferguson arrived to a round of applause after driving from Summerville, SC. And the chair of the event, Cam Dize Matthews insisted that there really was not very much to arranging the evening.
The next night's event took place beside a beautiful lake on Cam's family's property. A special guest that evening was Cam's 100 year old mother who enjoyed visiting with all her old friends. Other special guests were Bill Sherrill who has provided us with Red Oak beer for all our reunions and Gene Petty who brought an old fashioned juke box with a fabulous collection of records from our era. Dinner was delicious and the conversation animated and fun. Special thanks to Cam's cousins Walter, Debra, Betsy, and Chris who put up the tent, shuttled all from the parking lot, cleaned up the site and more. Everyone needs relatives like these!
We have heard several comments from people who say that they want to get together again soon, and since Cam says there was really not much to do…stay tuned.
Be sure to check out the pictures under the Photo Gallery tab on the left hand side of this page. Also leave your comments under Message Forum