R J Reynolds Senior High School
Class Of 1962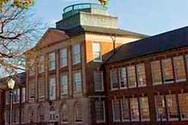 In Memory
George Carr Yarbrough III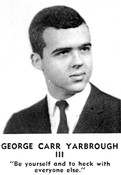 Our classmate, George Carr Yarbrough III was born on June 12, 1944 and died unexpectedly April 16th, 1995. I know very little about George's life and am hopeful that some of our classmates who remember him will send more detailed information to me at dantferg@aol.com. so I can post it on the website. I know that George had a younger brother named Richard Yarbrough and as I recall, Richard and George looked very much alike .Actually, I have found Richard on Facebook and reached out to him but as of yet had no response. Georges's grandparents lived about a block away from Reynold High School at 1422 Horace Mann. I remember many years ago seeing him in that neighborhood. I am not sure if he was actually living with his grandparents there or was just visiting. His grandfather, George Carr Yarbrough, died in 1949, and his grandmother, Ola Wall Yarbrough, died in 1966. I remember George as being very nice, and a likable,gentle and friendly person. He worked many years at Strohs Brewery and never married. In the 1980's and 1990's, I used to see him at Central Ymca and we would chat. The last time I saw him must have been March or April of 1995, a short time before he died. I recall we had a nice conversation and he seemed just fine. Then, the next thing I knew, I saw in the obituaries that he had passed away. It is so sad that we lost him so early. George is buried in Forsyth Memorial Park in Winston Salem.
May George's family know that he is remembered and considered by his classmates as a fine person. May God's love go with him for all eternity and George Yarbrough rest in peace.
Much of the information we now have is a result of the diligent efforts of our classmate, Nancy Crews Ash, for which we are most grateful. If anyone would like to add to this you can go to the "in memory" section of our website and make a comment or if you prefer, you can send yoour information to me by email at dantferg@aol.com and I will post it.
Respectfully submitted,
Danny Ferguson