R J Reynolds Senior High School
Class Of 1962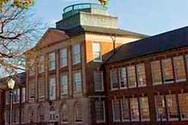 In Memory
John B. (Mike) Moore
John Baily Moore Jr. Obituary
It is with great sadness that we announce the death of John Baily Moore Jr. of Saint Augustine, Florida, born in Hattiesburg, Mississippi, who passed away on August 31, 2023, at the age of 79, leaving to mourn family and friends. Family and friends are welcome to leave their condolences on this memorial page and share them with the family.
He was loved and cherished by many people including : his parents, John Baily and Martha Moore (Floyd); his son Todd; his granddaughter Madison; his wife Marie Moore of St. Augustine; his daughters, Jodi Bruner (Billy Bob) of Adkins and Desha Rank (Kyle) of Chapel Hill; his step-daughters, Allison Clough (Jonathan) of Easton and Ashley Hastings of St. Augustine; and his grandchildren, Christopher, Brielle, Carly, Austin, Tyden, Breelyn, Callen, Gavin, Tatum and Jace Benjamin.
A celebration of life will be held on Sunday, October 15th 2023 at 2:00 PM at the St. Johns Family Funeral Home (385 State Rd 207, St. Augustine, FL 32084).
In lieu of flowers, the family kindly requests that donations be made to the Community Hospice & Palliative Care with a designation for the Bailey Family Center for Caring to support their invaluable work.
---