R J Reynolds Senior High School
Class Of 1962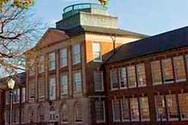 In Memory
Marcia Hart (Whicker)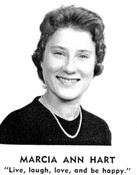 Thanks to the assistance of classmates, Nancy Crews Ash, Larry Crawford. Jim Middleton, and also several other classmates, including Marcia's close RJR friends, Pamela Hahn Mullin and Melinda Lee Trevorrow - we have learned some more about Marcia's life. She was born October 20, 1944 to William Melville Hart and Maxine Hart. Her family had connections in Harlingen, Texas but had moved to Winston Salem from Ohio where Marcia's mother's parents had lived. In Winston Salem, the Hart family lived on Westfield Avenue in Ardmore near Jim Middleton.
She went to public school and then on to Reynolds where she was very active in the marching band, the orchestra, the concert band, intramurals, the Order of the Rainbow and numerous other school activities. One summer, Melinda Lee Trevorrow remembers the two of them, both drivers with limited driving experience, driove to Columbus, Ohio to visit Marcia's grandmother. This was quite a feat since neither of them had ever driven that far by themselves. Melinda also recalls one year when she and Marcia decided to make kullots, which were wide legged pants, which appeared to be a skirt. Neither were experienced seamtresses and they got the hem too short. It was supposed to be over the knee, but their kullots were .too high up over the knee. They worried that it would be noticed by the teachers, and they would be called to the office but, thankfully, they were not reprimanded. Marcia and friends graduated from RJ Reynolds from RJR in 1962.
We know that immediately after high school, she attended St. Pete Junior College in Florida and played in the band there with her friend, RJR62 classmate Pamela Hahn Mullin. On September 3, 1966, she married Steven Lee Whicker who was a 1963 graduate of Reynolds. The wedding was at Maplewood Methodist Church on Reynolda Road in Winston Salem. We have a division of thought on where Marcia;s husband, Steven, went to college: Originally, we thought it was NC State based on a 1964 NC State annual, which has Steven's photo, but Larry Crawford told us that Steven's obituary said he had gone to college at the University of Tennessee. Apparently, Steven went to NCSU originally, then he transferred to UT.
At some point, Marcia and Steven moved to Texas, and at least by 1973, they were living in Dallas at 319 Cactus Lane. Marcia became a nurse in the pedriatic unit of a Dallas hospital. Also, she enjoyed dirt bike riding and loved horses, which they say she rode western style. She and Steven had no children.
Sadly, on August 30th, 1998 when she was only 54 years old, apparently then living in Richardson, Tx, she died of ovarian cancer.. She was buried at Restland Memorial Park in Dallas, Texas. Her husband, Steven Whicker whose date of birth was 10/04/1944, passed a way in October of, 2005 in Richardson, Texas and according to records, was buried in Naruna Cemetery in Naruna, Burnett County, Texas. Surviving Marcia were her two brothers: Bill Hart, an attorney and Gary Hart, both of whom live in Texas.
Although, it has been quite a while since Marcia left us, the RJR Class of 1962 has not forgotten her and sends its belated but sincere condolences to her family. We know she had and still has many friends and was much loved at Reynolds High School. We ask the good Lord to bless her memory and hold her close for all eternity and that our dear classmate rest in peace. If anyone has additional information about Marcia' s life, you can post in in the "in Memory" section of this website or you can send it to me at dantferg@aol.com and I will post it.
Danny Ferguson