R J Reynolds Senior High School
Class Of 1962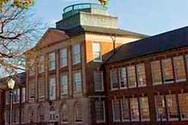 In Memory
George Patton Schimmeck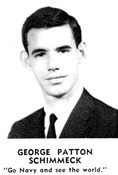 George Patton Schimmeck was born in 1944 to Max and Alice Schimmeck. Other sources say he was born in 1945. He was the son of Max and Alice Schimmeck. George went to Reynolds High and graduated in 1962 and at some point served in the US Navy. Thereafter, on August 2, 1964, he married Brenda Lynn Walker, who was the daughter of Virgil Odell Walker and Mary Hazel Walker and per our classmate,Vila Woods, they had some beautiful daughters, however, George and Brenda divorced in 1977. Sadly our classmate, George Patton Schimmeck passed away in 1985, although other sources say it was 1995. His death occurred in Knoxville, Tennessee. . I would welcome information from other classmates, providing more details about George and his life.
And in that regard, please read the comment below sent by our classmate Vilia Wood Marshall. It is very insightful , very well written, and I think gives us a good picture of George's early life, particularly his years at Ardmore Elementary School, and then later, the effect the loss of his parents had on him. Thank you Vilia for your informtion. Truly, George Schimmeck was a nice, good person. We are proud to call George our RJR62 classmate.
May the good Lord bless George's memory. The Class of 1962 sends its sincere condolences to George's family and prays that George rests in peace in the loving arms of Jesus Christ forever and ever.
Respectfully submitted,
Danny T/ Ferguson