R J Reynolds Senior High School
Class Of 1962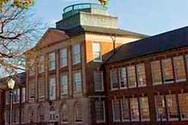 In Memory
Linda Walker (Bean)
OBITUARY
Linda Kay Walker Bean
JULY 14, 1944 – APRIL 7, 2021
Linda Kay Walker Bean passed away on April 7, 2021. She was born in Atlanta, Georgia on July 14, 1944. During Linda's childhood, her family moved to Winston Salem. She was a graduate of Reynolds High School Class of 1962. After high school, Linda attended Brevard Junior College then East Carolina University where she earned a Bachelor's of Arts in music. For most of her life, she ran and operated her family business, the original Walker's Florist, Inc. on Spruce Street. Linda took pride in the work she and her family accomplished in their flower shop.
In her free time, Linda loved reading, playing bridge with her friends, and completing crossword puzzles. She thoroughly enjoyed her private time practicing her ever-growing talent of playing the piano. However, Linda most enjoyed her time spent with her family. She was an adoring mother, loving grandmother, and loyal sister and for that she will truly be missed.
Linda is survived by her sons, Geoff (Norma) Hager and Derek (Sonja) Hager; grandchildren, Cindel, Gilia, David, Donovan, and McKenna; siblings, Doug (Carolyn) Walker, Anita (Ernie) Hughes, and Carol (Chuck) Tatum; longtime companion, Tommy Payne; many nieces and nephews; and beloved dog, Frosty. She was preceded in death by her parents, James Gray Walker, Jr. and Juanita Dunning Walker, and daughter, Donna Smith.
Linda leaves behind her legacy of compassion and love for rescuing and caring for dogs. The family requests that memorial contributions be made in Linda's honor to Gram Rescue Ranch, 380H Knollwood St, Suite 406, Winston Salem, NC 27103 or via Paypal at graminfoexchane@gmail.com
FAMILY
Geoff Hager (Norma), Son
Derek Hager (Sonja), Son
Cindel Hager, Grandchild
Gilia Hager, Grandchild
David Hager, Grandchild
Donovan Hager, Grandchild
McKenna Hager, Grandchild
Doug Walker (Carolyn), Brother
Anita Hughes (Ernie), Sister
Carol Tatum (Chuck), Sister
Tommy Payne, Longtime Companion