R J Reynolds Senior High School
Class Of 1962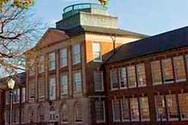 In Memory
Dallace McLennan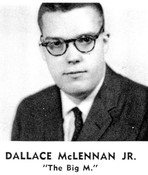 Dallace McClennan was born May 16, 1944 to Winston Salem attorney Dallace McClennan, Sr. (1905 -1965) and Margaret Vick McClennan (1909- 1999). He originally lived on Avalon Road near the Shaffners. Bob Shaffner remembers their good times at the McClennan house where the McClennans' had one of the first televisions around, and he and John would go over to their home to watch Howdy Doody and all the good ole' shows of the time with them. Later, the McClennan family moved to Robinhood Road across from Tom Fowler's. I think Dallace went to Summit School for all or part of his elementary school years then graduated with us in 1962 from Reynolds. Dallace was quiet and shy but a very nice and gentle person. Sadly, he had medical issues most of his life, but we don't know much about the details. Suffice it to say, however, that on September 14th, 1977, Dallace passed away much too early in life at young age of thirty three. He was buried at Forsyth Memorial Park.
Dallace was preceded in death by his father, Dallace McClennan, Sr.. He was survived by his mother, Margaret Vick McClennan who later passed away in 1999. He was also survived by two uncles, Thomas Vick, Jr. and Harold Vick. Other survivors include cousins, Harold Vick, Jr. of Thousand Oaks, California, and Brad Vick of Winston Salem, NC, Jane Robinson of Boone, NC and Susan Vick of Maynard, Maryland.
We send our belated but sincere condolences to the McClennan/Vick family and our blessings to our classmate, Dallace McClennon. May Dallace rest in peace for all eternity wrapped in the arms of Jesus Christ, our Savior and Lord.
If anyone has more information, please let me know at dantferg@aol.com