R J Reynolds Senior High School
Class Of 1962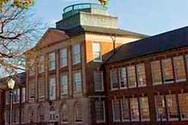 In Memory
Fred Richardson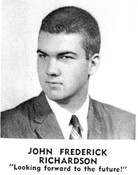 John Frederick Richardson was born in Forsyth County on March 25, 1944. His father's name was Ron Richardson but we don't yet know his mother's name. Fred passed away on December 1st, 1985 and is buried in Statesville, Iredell County, North Carolina. I remember Fred at Reynolds. He was in the marching band, the concert band, the orchestra, was a member of the French Club and served as baseball manager.
I remember Fred as being a very likable and friendly guy. I am sorry we lost track of him. If anyone has more details, please add it to the "in memory section of this website or if you rather, just let me know. at dantferg@aol.com and I will post it.
We of the RJR Class of 1962 send outr belated but sincere condolences to Fred's family. May the good Lord bless Fred's memory and may Fred be held closely in the arms of our Lord and Savior forever and ever.