R J Reynolds Senior High School
Class Of 1962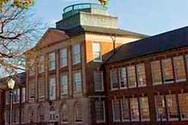 Lamar S. (Larry) Crawford Jr.
Profile Updated:
August 14, 2023
| | |
| --- | --- |
| Residing In: | Knoxville, TN USA |
| | |
| --- | --- |
| Military Service: | U. S. Marine Corps |
Yes! Attending Reunion
How are you Bill? Thanks for reaching out! All is good on this side of the Smokies, at least per my doctor at regular appointment this morning. Ronnie will always be a good guy to me, but he was getting a little weird last time we exchanged messages. I was domiciled in Georgia, 1970-73 in Augusta and 1973-76 in Columbus. "Promoted" to Internal Affairs in DC for 76-78. Then it was Memphis, Detroit, Richmond and Memphis again by 1985. SES from then through St. Louis 1990-94, Los Angeles 1994-98 and back to DC 1998-2000. Lots of good cases and solid convictions, but it was ceasing to be fun in early 2000. Retired at 77% of my high 3 and have been smiling ever since. All the best to you and yours!
Ronnie just had natural ability that someone like me struggled to match, but rarely ever did. In addition to the bowling and golf mentioned by others, he was a fair basketball player on our church league team at FBC. Lots of good times and then we just lost track. A few years ago, Connie helped me reconnect with Ronnie, either on Classmates or the RJR alumni site. He was perhaps more reserved than I remembered, but he too recalled the good times. RIP friend.