R J Reynolds Senior High School
Class Of 1962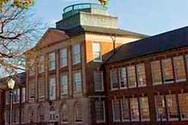 In Memory
Harriet Nanzetta (Clark)
HARRIET ANNE NANZETTA CLARK
MARCH 21, 1944 – MAY 08, 2023
Harriet Anne Nanzetta Clark died peacefully at Arbor Acres in Winston Salem on May 8, 22023. She was born in Winston Salem, North Carolina to Amy Newcomb Nanzetta and Dr. Leonard Nanzetta on March 21, 1944. Harriet was preceded in death by her parents, her sister Carole Nanzetta and her husband John Clark.
Harriet graduated from Reynolds High School and earned a teaching degree from UNC-Greensboro. She married Dr. Daniel Meehan and had her two beloved children with him. After they parted ways, she later married John Clark and they moved to Winston Salem. Harriet worked as a public-school teacher in Santa Fe until her retirement and brought a caring and joyful approach to educating young children.
Harriet was known to the Winston Salem community as a passionate supporter of the arts. As a daughter of two founding members of the Winston Salem Symphony, she had a lifelong love of music. She frequently attended concerts of all kinds and sang in the chorus of Handel's Messiah for many years with the Winston Salem Mozart Club. Harriet played the flute and was a longtime member of a local flute choir, bringing joy to others by performing for local groups and nursing home residents. She was a steadfast supporter of community theatre, and always loved seeing her children and grandchildren perform onstage. Harriet loved creative writing and was a member of several writing groups. In past years, she was an active member of Maple Springs United Methodist Church and especially enjoyed the yearly ritual of preparing homemade chicken pies to sell for the church. Above all, Harriet was a loving and devoted mother, grandmother, wife, sister, and friend whose cheerful nature was a ray of sunlight to all who had the good fortune to know her.
Harriet is survived by her brother Phil Nanzetta (Virginia) of Derwood, Maryland; sister Ellen Nanzetta Hall (Rickie) of Fultondale, Alabama; son, Patrick Meehan (Sally) of Winston Salem; daughter Katy Meehan (Dede Darrell) of Champaign-Urbana, Illinois; former husband and dear friend Daniel Meehan (Helen) of Santa Fe, New Mexico, and grandchildren Riley Meehan and June Meehan of Winston Salem.
A memorial service will be held in the chapel at Salem Funeral Home at 2951 Reynolda Road in Winston Sale on Sunday, May 21, 2023 at 2 pm with a visitation to follow.
In lieu of flowers, please consider a memorial donation to the Winston Salem Symphony, the Little Theatre of Winston-Salem or Second Harvest Food Bank.