R J Reynolds Senior High School
Class Of 1962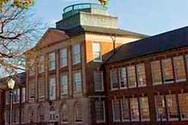 In Memory
Becky Reich (Russ)
Rebecca Reich Russ was born on May 2, 1944. Her mother was beloved Reynolds High School math teacher, Mrs. Katherine Reich. Becky Reich was an extremely enthusiastic student at Reynolds High, renowned for her wonderful personality, her infectious smile and her great exuberance. At Reynolds, she served as secretary of the Student Council, she was a Senior Marshal, she was on the Senior Executive Committee, she was a Dancing Boot, she was inducted into the National Honor Society and she participated in many other school activities. She was well-loved and very popular. After graduation, she attended Meredith College for several years, and at the age of 21, she married Henry (Butch) Russ who graduated from Reynolds in the Class of 1961. She and Butch had two children, a son Greg, and a daughter, Sherry and we think they had grandchildren. if anyone knows for sure, let me know. We believe that daughter., Sherry has since passed away.
Her husband Butch Russ owned a printing business, and back when we planned our 30th Class Reunion, Becky and Butch were a huge help in assisting us prepare the printed material for the reunion. In 2008, at 64 years old, sadly, Becky passed away. She had been well-loved by everyone who had ever known her, and I know a number of our classmates attended the funeral.
I have asked for help with more information about Becky and have already heard from a number of our classmates, including, Clenton Gentry, Phil Wooten, Bob Shaffner, Nancy Crews, Jim Middleton, Pat Huband Craver and others. We invite anyone who can assist us to email me with any information your might have at dantferg@aol.com.
Belatedly, we send our deepest condolences to Rebecca's family and say that the RJR62 class misses her, and that she will never be forgotten. With our love and blessing we pray that she rests in peace in the arms of our dear savior Jesus Christ for ever and ever. Amen!