R J Reynolds Senior High School
Class Of 1962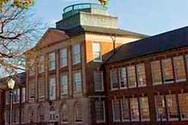 In Memory
Melvin Lowery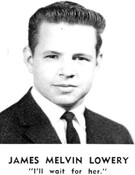 James Melvin Lowery was our RJR62 classmate, residing at Children's Home. He played CH football, basketgball, and baseball, was a member of the Monogram Club and the Usher's Club. Thanks to our classmate, Beth Bayless, we have a great update on Melvin. While still in high school, Melvin married the love of his life, Mildred Craig Lowery whose photo can be seen in the 1964 Black and Gold yearbook. Melvin and Mildred had a son, James Melvin Lowery, Jr. of Winston Salem and a daughter, Denise Lowery of High Point, NC, Melvin was a longtime employee of Joe's Landscaping in Lewisville, NC. He loved to talk about and sell plants. For the past number of years before his death, he was a security guard at Centenary Methodist Church. He loved his work there and the people, especially the choir and all of the ministers and grately appreciated their love and support, but was especially appreciative of the love and support of Dr. Roland Barnhardt .
On Friday, January 30, 2004, at Wake Forest University Medical Center, James Melvin Lowery, Sr. passed away at age 60. He had previously had a kidney tranplant some thirteen years before for which he had been very grateful. When he died, he had been seriously ill for over a year. He was buried in a graveside service on February 3rd, 2004 at at Westlawn Gardens of Memory in Clemmons, NC. Flowers were sent to his grave with the label, "I love you, brother" signed, Mary Frances Lowery Leach.
Melvin was survived by his wife of forty plus years, Mildred Craig Lowery*, his son, James Melvin Lowery** of Winston Salen, NC; his daughter, Denise Lowery of High Point, NC; a brother, Ennis Lowery and wife Shirley of North Wilksboro, NC; two sisters, Bobby Jean and Mary Frances; a grandaughter, Rainy Lowery and his two best friends, Harry and Janet Dinkens of Mocksville, NC.
James Melvin Lowery was a good and loving person who made this world a better place. May the good Lord bless and keep him and may he rest in peace in the arms of our savior Jesus Christ, our Lord.
If you would like to add more information to to the "In Memory" section of the RJR62 website or email me at dantferg@aol.com
* On a sad note, it is believed that Melvin's wife, Mildred, passed away in 2015.
** Furthermore, it is also believed that Melvin's son, James Melvin Lowery, Jr. passed away in 2019,
Respectfully submitted,
Danny Ferguson