R J Reynolds Senior High School
Class Of 1962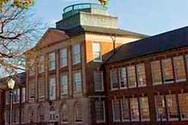 In Memory
Catherine Chandler (Appleyard)
ROCK HILL - Mrs. Catherine Chandler Appleyard, 78, passed away on Wednesday, September 14, 2022 at Rock Hill PACC.
Service will be held at a later date.
Born in New York City, NY, Mrs. Appleyard was the daughter of the late Lawrence R Chandler and the late Sarah Russell Chandler. She was a 1962 graduate of RJ Reynolds High School in Winston Salem, NC and attended Queens College in Charlotte, NC. She was a homemaker when her boys were young and when they were older, she went to work in the insurance business.
Surviving are her husband of 54 years, John J. "Jim" Appleyard, Jr.; her sons, Todd James (Mia) Appleyard of Fort Mill, SC and Scott David (Stacy) Appleyard of Stallings, NC: five grandchildren; two brothers, John R.(Debbie) Chandler of Colorado Springs, CO and Lawrence R. Chandler, Jr. of Mint Hill, NC.
In lieu of flowers, memorials may be made in Mrs. Appleyard's name to Hospice & Community care, PO Box 993, Rock Hill, SC 29731
The RJ Reynolds Class of 1962 sends its deepest condolences to our beloved classmate, Jim Appleyard and to Cathy's wonderful family. May the good Lord bless and keep Cathy and may he send his blessings to her and to her family.
I want to thank our classmate, Gene Petty for putting us on notice about Cathy's passing and also, i ask tht if anyone has additional informtion, to add it to this in memorial section or email it to me at dantferg@aol.co or call me at 336-409-1054