R J Reynolds Senior High School
Class Of 1962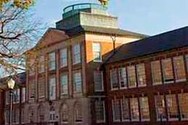 Welcome to the R J Reynolds Senior High School Class Of 1962 web site. This is the official website for the 50th reunion for the class of 1962.
Over 200 Attend R J Reynolds Class of 1962 50th Reunion!
A record number of 1962 classmates and their spouses or companions came back to Winston-Salem on September 28th and 29th to celebrate our 50th high school reunion. What a weekend it was!
Here is what some returning classmates had to say...
"This was a GREAT event; I've never seen SO MANY OLD GEEZERS having SO MUCH FUN! We owe a great debt of thanks to the committee which worked its socks off to give us such a good time. Let's all join in an electronic round of applause 'in the cloud' for all the organizers!" - Paul Licker

"Many thanks to the great committee for the incredible job planning the 50th reunion. It was a great 2 nights reliving old times with friends and classmates." -David and Peggy Yountz

I want to thank all of you so much for organizing and delivering such a fabulous weekend that brought together friends from fifty years past. It was surreal, as if we were in some form of a time capsule. Although a mid-century had passed, I felt as if I had seen these friends the prior day walking the halls of RJR...We had physically changed, but I never seemed to notice, and furthermore, it didn't matter. That we were able to share in Scottie's memorial was very special and snapped us back to the reality of our now golden years. As we all know, to initiate an event of this magnitude, is not an easy undertaking, but is a task of dedication. We thank all of you for taking your time and talent to give us, the class of 1962, this gift. It was PERFECT! -Pam Bain Davis
"From the amazing website to prepare us for the event, to the excellent 'accommodations' and delicious food, it was a first rate affair which wouldn't have happened without diligence and dedication." -Kathy Traylor Sink
"Just wanted to say how very much it meant to those of us who have left home to come back to such hospitality all the way around. Hope to see you before 10 more years pass." -Emily Siewers Cox
"Just a short note to let each of you that I had the privilege of talking with how good it was to see and talk with you. Unfortunately there were others there that time did not allow me to get to. Stick around and we will do it again! The turnout of 200+was so great and I was pleased to have had the opportunity to get back with the RJR crew from '62.
The representation of such varied and successful careers would make those that taught us very proud to hear of the accomplishments represented there last weekend. I know that I am proud to be a part of this class.
Looking forward to seeing all of you at the next gathering, let's not make it so long before doing it again" -Dick Goin
"The friendly atmosphere felt as though the years rolled back and we were in the lunch room enjoying the day with friends. I really enjoyed going back to RJR on Saturday. My son who has served his Country for over 26 years was able to attend with me that day. He was in "AWE" in the building structure. Again, thank you for a great time of memories." - Charlotte Williams Dellinger
Jack and I cannot thank you enough for all the hard work you all did for our 50th to be so much fun and so successful. What a great committee and what a wonderful weekend we all had.

Thank you for opening your home to us Sat. afternoon. I loved seeing some of the talent our class has. Tom your work is God given and beautiful. The other art displayed was just wonderful. We truly are a blessed generation to have had such a great school, good background, and special friends. Jack and I will always be so grateful for our time together that 50th. He felt welcome and at home with our class.
- Rosa Lee Ashburn Scarborough
We are in Michigan on vacation but wanted to thank you and the crew for the great reunion. Charles and I had a great time and enjoyed catching up and meeting new people. - Pam Smithdeal Garrison
And from some of the committee members…
"Well, I've finally healed from all of the rich food and Red Oak. I think a fun time was had by all and to all here you did a fine job, each and every one of you, in putting together what, I think, was the best Reunion that we've had. Especially the venues, the decorations, the food, the entertainment and, well, just all of it. Good Job! Jewell & I will miss our monthly meetings and we were so glad to be included and work with all of you.....Think we should think about another one in 5 years??? Just a thought.........take care" -.Mickey Cook
"It is hard to believe it is over. Planning the reunion has been so ongoing; it was beginning to seem like a way of life. And now that it's done, it leaves me a little sad and afraid I am going to start missing everybody. On the other hand, it makes me exceedingly happy that the reunion turned out so great and that everyone had such a great time. It almost seems like a dream, getting to see so many old friends. I agree with Mickey about a 55th. Of course, that's a few years away. So I hope I see ya'll now and then. Maybe we should have a little cook out or something. Again, thanks to everyone." -Danny Ferguson
You can read more comments, and add your own, in the message forum. Please let us know your thoughts.
Friday Night Gala:
After year-long preparations our 50th Reunion kicked off with a formal dinner and party at Winston-Salem's new BB&T Ball Park downtown. It was as if school had just let out as classmates reconnected with each other, many for the first time in 50 years. Of course the first question might have been ..."Now, who are you?" From that point on it was as if we were right back at old RJR High. The night started with attendees posting memorabilia that they brought when they checked in and received their Welcome Kits and name tags. During pre-dinner cocktails everyone headed out into the stands, or watched the monitors located around the dining room, as a "Welcome to Our 50th!" video appeared on the scoreboard. (We are still seeking a way to include the video in the website).
An unbelievable buffet of prime rib and shrimp and grits, in deference to our southern roots, was served in the black and gold festooned executive suite overlooking the ball field and downtown. Following dinner, classmates were recognized for such accomplishments as weighing within 5 pounds of their high school weight (only 2!), remembering and reciting "Invictus" as learned in Mrs. Stephenson's class, marrying their high school sweetheart, marrying someone they had met at a previous reunion, having earned a PhD, having sneaked out of the house during high school (and more than once on the same night!), being with the band on some of the wild road trips, for being able to remember their home room teacher for their senior year, not being able to remember their website password, etc... It was a hoot!
Surprise "Flash Mob":
You should have been there when an unexpected "Flash Mob" interrupted the program as Mickey Cook suddenly stood and started singing "Amid the Pines" a capella. He was quickly joined by others and then it wasn't long before everyone was joining in. Then suddenly "Go You Black Demons" blasted out from a boom box and cheerleaders rose form the crowd with pom pom's shaking. As the cheer ended, a Coach Red Wilson look alike ran a football in and handed it off to our recent class of '62 inductee to the RJR Athletic Hall of Fame, Reid Warren who took off as if it were 50 years ago. Another boom box appeared and "Shine" blasted out as our old majorettes and boots jumped to their feet. As the music wound down and the crowd began to realize what was happening, Danny and Betty Ferguson stood and began to sing our alma mater, "Her Portals Tall and Wide..." again a capella. Soon others were standing and joining in and then the whole room was singing. It had to have been one of the "oldest flash mobs" in history! But…what a night!
Saturday:
Saturday's events were quickly rearranged when the rain came pouring down. The golf tournament had to be cancelled even though there were a few who said they would brave the weather. But the rain did nothing to dampen the reunion spirit.
Many classmates found their way back to the school where Carolyn Todd Stokes' daughter, Karen Morris, the Arts Magnet Director at RJR, explained the Arts Magnet Program to us. She ensured us that students are engaged--no heads on desks. In fact, when the school implemented seven three-week segments of various across the board arts study for all incoming students, discipline problems dropped by more than one-third. In addition to the standard course of study the school offers 36 visual and performing arts courses and fills over 1500 arts seats every day. You can read all of Karen's comments and much more about the school and Arts Program by clicking on RJReynolds Arts on the left of the home page. RJReynolds Arts also has a Facebook page that Karen is adding things to daily. The website is: http://www.facebook.com/pages/RJ-Reynolds-Arts/288031974649054?ref=stream
Unless they live in the neighborhood, students must apply to attend the school. The waiting list of more than 250 students demonstrates just how successful the new focus is. We were assured that RJR, with the most diverse student body in the system, has maintained its academic excellence—for instance, in 2012 year more RJRHS students were admitted early admission to UNC-Chapel Hill than from any other high school in North Carolina. To learn more about the current RJRHS, you can also go to http://wsfcs.k12.nc.us/reynolds.
Following the tour classmates scattered to a variety of lunch spots downtown to catch up and see what was happening center city.
An Afternoon Surprise:
In the afternoon, after a last minute cancellation by the owner of a planned downtown studio tour, an impromptu "Class Affair" art and creative show was held at Tom and Anita Ogburn's house and Tom's studio and gallery. A number of classmates and spouses brought art and creative efforts of all types including: sculpture, paintings, recent books written and published, etc. These were displayed throughout. Attendees continued to catch up and were amazed at what their classmates had created.
Old Staley's
That evening, we all filed into "Old Staley's" to chow down on piles of buffet food and Red Oak Beer. It was great to relive those late Saturday night "food runs" to the original Staley's on Stratford Road before one last drive through the Triangle. It was a "packed house".
What a week-end to remember! And thanks to everyone who came for making it all possible. (Check out the pictures in the gallery. We are still working to find a way to show the "Welcome to Our 50th!" video, so stay tuned.
Many classmates said they want to give back!
While at the reunion, many classmates asked if we were going to give a class gift… especially since it was our 50th Reunion. After 50 years so many expressed how much they appreciated what they learned and experienced at old RJRHS. Here in a nut shell seems to be a consensus of what we have heard being expressed:
First: "this is the Class of 1962 and it is our 50th reunion…so let's do something worthy of that. In other words let's make it SIGNIFICANT!"
Second: "let's have a LASTING IMPACT that benefits many!"
Here is one thought many classmates seemed excited about. As most of you know, or perhaps not if you live outside of Winston-Salem, there is an effort underway by a large group of alumni to build a stadium adjacent to the school in the area between Bryson Gym and Wiley School. Plans have been drawn and are being presented to the committees who must approve such an effort. Plans propose a 3,000-4,000 seat stadium and field house including a new gym for Wiley middle school to replace the old one that would have to go.
As background, Reynolds High School, the oldest high school in the system, is the only one without its own stadium. Approximately 11 other athletic fields or facilities are rented each season so that many of the over 50 varsity and junior varsity sports at RJR can have a place to practice and play. The football team now shares a stadium miles away. This is a facility that is sorely needed and one that would impact every student associated with the school… past, present and future! So a pervasive thought at the reunion seemed to be… "Let's make it happen"!
You can read all about the stadium efforts at www.rjreynoldshomefield.com
Several other ideas were thrown out as well. But rather than the "Reunion Committee" making this decision, we felt that this was something all of our classmates should be a part of, especially if we were going to make it a significant effort. So those at the reunion were asked to forward their suggestions along. We are now asking all of you to do the same. Please post your thoughts in the message forum on the left.
The www.rjreynolds1962.net Website Will Be Up For the Next Ten Years!
Given the totally unexpected participation with this website and the fact that everyone for whom we have contact information has signed in, we are going to keep the website going. We have contracted with the site and extended the domain name registration for the next 10 years! We do not have a staff of website managers to post and keep everything up to date so we are asking you to help do that. Please keep your profile and contact information up to date and post your messages, post your pictures, use the email function, etc. We will be glad to help and answer questions if we can. With your help and involvement we will make it happen. Thanks for being such a wonderful part of this effort.