R J Reynolds Senior High School
Class Of 1962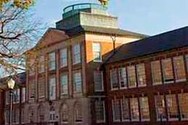 Welcome to the R J Reynolds High School
Class Of 1962 Web Site
Big Crowd Expected for 55th Reunion!
October 6 and 7, 2017
Dear Classmate:
We are really excited about seeing you at the 55th Reunion on October 6th-7th. Your Reunion Committee has been working for a year and a half designing a time that everyone will cherish. The theme for the weekend is : "What's Old Is New Again". You will be blown away with how much both R J Reynolds High School and Winston-Salem have changed. (Of course we haven't a bit!) We wanted to tell you a little more about what to expect and plan for. The dress for the entire weekend is casual with much of it outside. We have also planned much more time to just talk and catch up with one another.
Friday Night October 6th: The weekend officially starts on Friday night at 6:00pm at the Brookstown Inn (200 Brookstown Ave, W-S, NC 27101) and ends about 10:00pm. There is a parking lot behind the building and you can walk straight into the lower level where the meeting room is. Or, you can come in from the street (no steps) onto the patio. We will have all of the patio area and downstairs for the Reunion. There is an elevator from the patio level downstairs in the back hallway if you don't want to come down the outside patio stairs to the meeting room. When you arrive, you will need to sign in at the Welcome Table downstairs in front of the meeting room. Here you will get name tags and a Welcome Bag with lots of information about who is coming and activities for the weekend.
The plans for the night provide for a casual meeting time with no formal sit-down dinner. There will be heavy hors d'oeuvres. The bar will have free Hummingbird Beer, donated by Bill Sherrill at Red Oak Brewery. You will need to pay for wine, mixed drinks and any other brands of beer available at the bar set up in the meeting room. So bring some "drink money" if you don't plan on drinking Humming Bird, soft drinks or water.
Although there is no formal dinner there will be tables and chairs available so you can "rest your old feet". We plan a short program with a couple of videos and there will be a jukebox with all of our old songs. However, the bulk of the night and weekend is "catching-up time".
Saturday morning, October 7th: Everyone, whether you are going on the bus tour of Winston-Salem or not, is invited to R J Reynolds High School (301 N. Hawthorne Rd.,W-S, NC 27104) at 10:00am on Saturday morning. We will convene at the Arts Center located directly behind the Auditorium. Karen Morris, the Arts Magnet Director, and Pat Crowley, Coach of the football team, will talk with us about what's new at the school and the proposed stadium. We will partake of some local Krispy Kremes and tour the new Arts Center and the school.
Those who have signed up and paid for the bus tour of Winston-Salem (Sorry, it's full!) with noted historian Fam Brownlee will depart from the school at 11:00am. It will return to the school around 1:00pm.
You are then free to meet up with old classmates and grab lunch somewhere. We suggest some of the new places downtown.
Saturday Night "Dinner Under The Stars" at Cam Dize Matthews. Beginning at 4:30pm we will convene at Cam Dize Matthews' homeplace on the lake. It is located at the end of Swan Drive off Ransom Road. (Directions: go out Reynolda Road, past the Wake Forest University entrance. to the Polo Road intersection. Take a left onto Polo. The road forks a stone's throw up the road with Polo going to the left and Ransom Rd. going to the right. Go right on Ransom. Go down Ransom Rd for about 1/3 of a mile and Swan Drive is the first turn on your left. Turn left and follow Swan drive down to the parking area.) There will be attendants at the parking area to show you where to park. Follow the lit luminaries down to the lake. We will have golf carts for those who need them to take you down to the big tent by the lake. If you need to drop someone off down at the tent just continue down the drive.
Don't forget your name tags and ladies should wear shoes without high heels. There will be free beer, again supplied by our dear friend Bill Sherrill, as well as free wine, soft drinks, water, etc. If you would like a mixed drink, it's back to the old "brown bagging" days so bring your own liquor. We will supply all of the mixers etc.
We will have a large tent with tables and chairs for everyone to eat. Dinner will be a fantastic buffet provided by Libby Hill Seafood comprised of grilled salmon, oysters, fried fish, shrimp, chicken and lots and lots of other delicious stuff.
The night will be filled with remembrances of classmates, a special program and lots of time to reminisce and catch up. It will be a special night to remember. We are looking forward to seeing you there.
Have safe travels,
Your Reunion Committee
YES! There Will Be a 55th Reunion!
We heard you loud and clear. More than 20 of your fellow classmates have been meeting since June to plan our 55th R J Reynolds High School Class of 1962 Reunion. Many of you completed the survey we posted letting us know what you wanted and when. We listened. Our 55th will be held the first weekend in October, 2017. So hold the dates of...
OCTOBER 6 and 7, 2017!
"What's Old Is New!" This is the theme that has guided the Committee in putting together an unbelievable weekend. Not only has R J Reynolds High School changed, but Winston-Salem has really, really changed. (Of course, none of us has changed at all, except for a few new parts!) We plan to give you plenty of time to chat and catch up with all of your old friends and classmates. But we also want to give you a flavor of what is going on at the school and downtown. You will simply be amazed. Friday night will feature a welcoming cocktail reception at historic Brookstown Inn, a short walk to the hub of downtown. A block of their cool rooms will be reserved for early callers. Saturday will showcase RJRHS along with a guided trolley tour of new sights and happenings in Downtown. From Innovation Quarter (an exploding 200 acres in the center of town with apartments, condos, new companies, research labs, school campuses, entertainment venues, etc.), a completely renovated Reynolds Building into a high end Cardinal Hotel and Apartments, a bustling arts district packed with galleries, restaurants and bars, to 4th Street packed with outdoor diners at restaurants and breweries, you will marvel at the transformation. Saturday night will be a special get together and dinner under the stars at Cam (Dize) Matthew's outdoor pavilion by the lake. You will not want to miss anything.
Plans are still in the making but we want everyone to mark their calendars and hold the weekend of October 6 and 7, 2017 for our 55th reunion. Spread the word as well. We look forward to a great turnout and seeing everyone there. Stay posted for updates as plans finalize.
We will keep you posted on how plans are unfolding along with costs, etc. Your Reunion Committee is doing its best to make this a weekend you simply don't want to miss yet keep the costs down for everyone.
Friday Welcome
Join your classmates at historic Brookstown Inn, a short walk to the hub of downtown, for an opening reception. Enjoy a delicious appetizer buffet as you greet classmates and learn about weekend plans. Beer is included in the price. Wine and mixed drinks available at a cash bar. Continue your evening at one of our local restaurants nearby.
Guided Tour
With noted local historian Fam Brownlee, an RJR graduate, as a guide, classmates will enjoy a city-wide tour of the new Winston-Salem returning about !:00 PM. The group will start with Krispy Kreme doughnuts and coffee at the Music Center on the Reynolds High School campus where the participants will learn more about RJR today. and then depart for more city sights.
Dinner Under the Stars
A casual dinner in a wonderful parklike setting will cap off the events. The location at Betty Dize's house on Swan Drive has a lake, dock, bandshell, and ample room for a great party. Music will be provided by a juke box. Wine, beer, and set ups will be provided. BYOB if you prefer a mixed drink. Gofl carts will be available for classmates that need assistance walking.