R J Reynolds Senior High School
Class Of 1962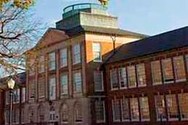 Welcome to the R J Reynolds High School
Class Of 1962 Web Site
"BRING IT HOME"
-A CAMPAIGN TO BUILD A NEW HOME STADIUM
The last few months have been filled with many exciting opportunities for Reynolds High School. This school year began with a new principal, a new football coach, and now a serious campaign to raise funds for a new home stadium...something we have all wished for since we were at RJR. The facility will be built on underutilized property already owned by the school system. Nearly $800,000 has already been raised toward a total cost of $4,500,000.
For more than 92 years, athletes, members of the band, dancing boots, cheerleaders and all of the many other students, teachers, parents and friends of Reynolds High School have been "playing on the road," with no home field advantage. Today, more than 800 or 45% of all RJR students participate in 44 sports. They travel almost 14,000 miles a year just to practice and play… all on someone else's fields. As members of the class of 1962, we share in our pride for R J Reynolds High School. Many of our clasmates excelled in sports or other activities. For many, this participation led to opportuities to attend college. Our students deserve to have their own "home" stadium. The benefits are so much greater than just not having to travel and lease fields.
For several years now, many people have been working on plans to build a stadium at Reynolds High School. More than a football stadium, students participating in boys' and girls' soccer and lacrosse, field hockey for girls, football for boys, all with varsity and junior varsity programs, will have a true "home field advantage." In addition, the stadium will serve the marching band, junior ROTC, drill team, cheerleaders, majorettes, and dance teams. At least 18 RJR teams/groups will utilize the facility. It will also be a terrific community venue. And… it will not be built on Hanes Park property!
At the 50th Reunion many of you asked what we could do and when...well now is our chance. As individuals, and a class, we have the opportunity to make a truly remarkable difference in the lives of RJR students and supporters for years to come.
A great deal of information addressing questions you may have as well as drawings of the proposed stadium complex are available on the website www.RJReynoldsHomeField.com. Please consider a generous tax deductible gift to help make a home stadium a reality. You may donate to the project on the website or mail your gift to Home Field Advantage, 380 H Knollwood St #177, WS NC 27103. If you are interested in a significant "naming" opportunity please email us, Anita or Tom.
Let's leave a Class of 1962 legacy. Let's "Bring It Home"!
Go Demons, Go!
Anita and Tom Ogburn, Home Field Advantage Campaign Captains-Class of 1962.
LET'S HAVE ANOTHER REUNION SOON!
Many of you have asked about having another reunion before our 55th. We posted a survey and some of you have responded. If you haven't, please do so. See the tab on the left side of this page. Your Reunion Committee will be getting together this October, 2015 to make a decision on when and what kind of event to plan. Your input is key. We will post further information as plans unfold.