R J Reynolds Senior High School
Class Of 1962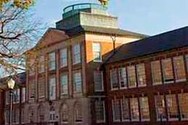 Welcome to the R J Reynolds High School
Class Of 1962 Web Site
YES! There Will Be a 55th Reunion!
We heard you loud and clear. More than 20 of your fellow classmates have been meeting since June to plan our 55th R J Reynolds High School Class of 1962 Reunion. Many of you completed the survey we posted letting us know what you wanted and when. We listened. Our 55th will be held the first weekend in October, 2017. So hold the dates of...
OCTOBER 6 and 7, 2017!
"What's Old Is New!" This is the theme that has guided the Committee in putting together an unbelievable weekend. Not only has R J Reynolds High School changed, but Winston-Salem has really, really changed. (Of course, none of us has changed at all, except for a few new parts!) We plan to give you plenty of time to chat and catch up with all of your old friends and classmates. But we also want to give you a flavor of what is going on at the school and downtown. You will simply be amazed. Friday night will feature a welcoming cocktail reception at historic Brookstown Inn, a short walk to the hub of downtown. A block of their cool rooms will be reserved for early callers. Saturday will showcase RJRHS along with a guided trolley tour of new sights and happenings in Downtown. From Innovation Quarter (an exploding 200 acres in the center of town with apartments, condos, new companies, research labs, school campuses, entertainment venues, etc.), a completely renovated Reynolds Building into a high end Cardinal Hotel and Apartments, a bustling arts district packed with galleries, restaurants and bars, to 4th Street packed with outdoor diners at restaurants and breweries, you will marvel at the transformation. Saturday night will be a special get together and dinner under the stars at Cam (Dize) Matthew's outdoor pavilion by the lake. You will not want to miss anything.
Plans are still in the making but we want everyone to mark their calendars and hold the weekend of October 6 and 7, 2017 for our 55th reunion. Spread the word as well. We look forward to a great turnout and seeing everyone there. Stay posted for updates as plans finalize.
We will keep you posted on how plans are unfolding along with costs, etc. Your Reunion Committee is doing its best to make this a weekend you simply don't want to miss yet keep the costs down for everyone.