R J Reynolds Senior High School
Class Of 1962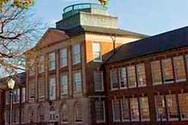 In Memory
Billy Spencer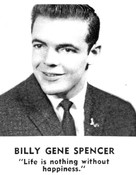 I summarize the obituary of our classmate, Billy Gene Spencer who died in 2004.
Billy Gene Spencer, 62, of Moycock, NC, a native of Killarney, Raleigh Co. West Virginia, born on 27 March 1942, passed away at his residence on 14 April 2004. He was raised with hyis brother by his greatly loved grandparents, William F. and Mary Morrison Ellis who predeceased him. He is surived by his wife, Jean Sylvester Spencer of Moycock, NC, his only daughter and his "Helper" in and around his house jobs, Therese M. (Jim) Thomlinson of Camden, NC, his sons, Michael F. Large of Chesapeake, VA and T. Eugene Williams of Newport News Va, his mother, Ruth H. Ellis of Moyock, NC, sisters, Sandra Outlaw (Richard) Dunlap of Toano VA and Debi Outlaw (Mitch) Worley of Williamsburg, VA,. Mr. Spencer is also survived by grandchildren, Jessica D. Tomlinson, Shane F. Large, Crystal M. Brown, Courtney H. Brown, Brandon M. Large, Ian J. Tomlinson and step-grandchildren, R., Paul Benton III and Jacob N. Benton. His grandchildren dearly loved their "Papa" and his memory will live on in them. Mr. Spencer is also survived by two sisters in law, Dorothy A. Silvester of Currituck, NC and E. Marie Silvester of Chesapeake, VA. Also left to mourn is his devoted cat, "General Morgan".
Mr. Spencer was employed fro 31 years as a Pipefitter Supervisor at Norshipco, Norfolk, VA, a job that gave him great satisfaction. Billy also enjoyed working with wood and was always building things for his family and friends and especitally enjoyed making things for his grandchildren.. He was a proud member of the Norfolk County Grays #1549, Sons of Confederate Veterans, Chesapeake, VA. One of his projects that he was most proud of was to build benches and the flagpole for the Jackson Grays Confederate Monument on St. Bridges Road, West.
Services were held at Twiford's Colonial Chapel, Chesapeake, VA on Sunday, 18 April 2004 with the Rev. Johnny McDonald officiating. Burial followed at Moyock Memorial Cemetery, Moyock, NC.
- We send out our condolesces to Billy's wife, Jean, and his family and loved ones.
Respectfully,
Danny Ferguson RJR62