R J Reynolds Senior High School
Class Of 1962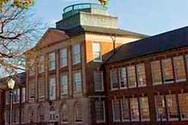 In Memory
Penny Baker (Phipps)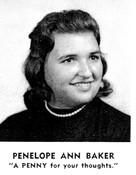 COLUMBIA, S.C. - I belatedly located the obituary on our classmate, Penny Baker Phipps who passed away back in 2007. Penny spent most of her adult years in Columbia, SC and as her obitutary reflects, she led a very productive life there and was very well-loved by many. To Penny from the RJR Class of 1962, May God Bless you sweet lady and may the Good Lord hold you closely in his arms and may you rest in peace forever and ever. Amen.
*************************************************
PENNY BAKER PHIPPS - OBITUARY
Memorial services for Penny Phipps, 62, will be held 1 p.m. Tuesday, February 20, 2007 at the Chapel of Thompson Funeral Home of Lexington, officiating will be Rev. Dennis Banks. The family will receive friends from 6-8 Monday evening at the funeral home. Memorials may be made to First Baptist Church, T.V. Ministry, 1306 Hampton Street, Columbia, SC 29201. Mrs. Phipps passed away on Saturday, February 17, 2007. Born in Winston-Salem, NC she was the daughter of the late James W. and Margie Weatherman Baker. Formerly of Winston-Salem, NC and Augusta, GA., Mrs. Phipps and her husband Memory have been area residents since 1981. She was a member of Forest Hills Baptist Church of Winston-Salem, NC; she was a graduate of R. J. Reynolds High School and Winston-Salem Business School. For the past nine years Mrs. Phipps was a Garage Door Sales Lady for Bilt Rite Door Company, and a former an employee of Overhead Door Company of Columbia. She was thefirst outside female sales associate in the Columbia area and known as an extremely valued employee for her personal, customer, and communication skills. She was a member of Columbia and Sumter Home Builders Association. She was a loving wife, sister, and aunt. She will be dearly missed by her family and friends. Surviving in addition to her husband, Memory L. Phipps of Columbia; sister and brother-in-law, Joan and Joey Manor of Wilmington, NC; aunt, Evelyn Brown of Winston- Salem, NC; sister-in-law, JoAnn Pierce of Florence; brother-in-law and sister-in-law, Harold Phipps and Joyce of Centenary; brother- in-law, Frank Phipps of Myrtle Beach; also several nieces and nephews. The family would like to extend a special ts, Kirby Price of First Baptist Church, and the staff of Critical Care, 4th Floor, and Lexington Medical Center for their care and kindness during our time of need.