R J Reynolds Senior High School
Class Of 1962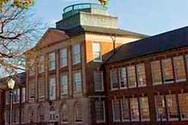 In Memory
Clyde R. Lincoln III
Our classmate, CLYDE ROY LINCOLN, III passed away on June 19th, 2020. I invite you to read his full obituary in the journal, however I have prepared a summary of some of the highlights of his life, which follows: CLYDE was born on March 2, 1944 in Winston Salem. He attended Southside Baptist Church. He played the trumpet and trombone and participated in the Salem Easter Sunrise Service. He graduated from Reynolds in 1962 and from Wake Forest University in 1966. He earmed his M. Ed. from UNC-G in 1986 and did doctoral studies in mathematics education. He lived for many years in Germany and traveled extensively through Europe on his motorcycle.. Eventually, he returned to Ameica and found his calling in education, teaching German and English at Reynolds High, taking students overseas and working in Greensboro and Raleigh with the State Department of Education on testing.
Clyde enjoyed hunting,fishing; and listening to classical music. When he retired, he moved to Connecticut with his wife and there tutored students in English, chemistry, calculus, and physics. During his retirement years, he enjoyed singing in the church choir and playing bridge. Also, he loved his annual trips to Paris with his daughters, visiting museums, operas and sharing with them the French culture.
Clyde passed away quite unexpectedly at the age of 76 after a short stay at Wake Forest Baptist Hospital. Clyde was predeceased by his parents, Ruth Hepler Lincoln and Clyde Roy Lincoln, Jr.; and his brother Tim Lincoln. He is survived by his wife Karen Lincoln and his ex-wife, Barbara Nelson, who gave him three beautiful daughters: Patricia Lincoln (David), Heather Lincoln (Matteo), and Lindsay Lincoln (Peter). Tricia gave him three handsome grandsons: Leal, Samuel, and Wiley.. Clyde is also survived by his sister, Linda Miller (Dan), his sister-in-law, Joan Lincoln; multiple nieces , nephews, cousins and aunts, including Alma Needham and Louise Hepler.
There will eventually be a small family celebration of life. Clyde wished to be buried in Paris at Pere Lachaise cemetery. Online condolences may be made at www. hayworth-miller.com.
- Clearly, Clyde was a good and respectable man and led a great life filled with love, honor, service, and duty to his fellow man. The RJR Class of 62 is honored to call him our classmate. We send our deepest condolences to his family and we pray that our beloved friend, Clyde Lincoln, rests in peace..
Respectfully submitted,
Danny T. Ferguson (RJR62)