R J Reynolds Senior High School
Class Of 1962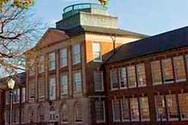 In Memory
Jimmy Kausch
Obituary from the Winston Salem Journal (6/2/2017)
Our classmate, James (Jimmy) Walter Kaush, 73, passed away on May 30, 2017. He was the son of Frederick William Kausch and Nell Orfinik Kausch. He spent his early years in Basking Ridge, NJ.
His family moved to NC when Jimmy was in the 7th grade. He graduated from R.J.Reynolds High School and attended Duke University and Wake Forest University. He graduated from Wake in 1967 and began work at Integon Corp. He then moved to Wake Forest University as head of purchasing. He was an avid Demon Deacon fan and attended most football and basketball games.
Jimmy loved the beach and Lake Norman, where he and his family had a second home. He spent many wonderful hours on the lake with family and friends and had explored all the crooks and crannies of the lake. His greatest love was humor which he brought to every situation, making every task easier.
Jimmy was married for 50 years to Carole ("Charlie") Williams Kausch. They have two children, Leslie Kausch and Kim Kausch Watson. They have three grandchildren, Daniel Hutchinson Kausch, Aby Watson and Zoe Watson. Jimmy also has a sister, Jeanne Kausch Director.
Jimmy was a member of Clemmons Presbyterian Church where he served on several committees. Until last year, he chaired the church's many successful blood drives. He was a longtime standing member of the Reginal Red Cross Blood Board and also served on the local ABC Board.
A memorial service honoring Jimmy will be held Sunday, Juen 4, 2017 at 4 pm at Clemmons Presbyterian Church with Dr. Bill Hoyle officiating. The family will receive friends immediately following the service the service. Inurnment will be held in the church's columbarium follwing the visitation.
In lieu of flowers, memorials may be made to Clemmons Presbyterian Church, 3930 Clemmons Road, Clemmons, NC 27012. Online condolences may be made to www.hayworth-miller.com.
Jimmy's zest for life and outrageous sense of humor will be greatly missed by the many people who loved him.
Respectfully submitted,
Danny Ferguson