R J Reynolds Senior High School
Class Of 1962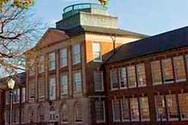 In Memory
Errol Hunt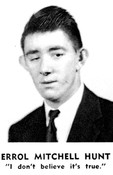 Our fellow classmate Errol Mitchell Hunt passed away May 1, 2012. I will summarize his oibituary from the Winston-Sallem Journal:
Errol Mitchell Hunt, age 72, of King, passed away Tuesday, May 1, 2012 at Forsyth County Medical Center in Winston Salem. Mr. Hunt was born in Forsyth County January 12, 1940 to John Ronald and Viola Virginia Stainback Hunt. He was a member of the Mt.Olive Baptist Church in King. Mr. Hunt graduated from R.J. Reynolds High School. He enjoyed NASCAR racing, loved going to gospel singings,and enjoyed playing bingo. He worked at Forsyth Medical Center for 38 years.
In addition to his parents, Mr. Hunt was preceded in death by four brothers, John, Jim,Horace and Doug Hunt. Surviving is his wife of 27 years of marriage, Carolyn Hunt of the home, one stepson, Gene Mitchell Troutt of King. Also, two very special grandchildren, April and Joshua Troutt, one brother, Ronnie (Nancy) Hunt of Clemmons; two neices, Sherry Huffman and Tracy (Joe) Eurey; a great nephew, Curtis Huffman and several nieces and nephews. Also, a special friend, Ann Magaraci. Funeral services were scheduled for May 4, 2012 at the Mt. Olive Baptist Church in King with the Rev. Carl Goodman and Rev. Larry Walker officiating. Burial will follow at the church cemetery.