R J Reynolds Senior High School
Class Of 1962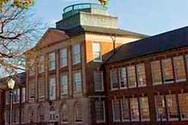 In Memory
Doug A. (Fab) Foltz
Sadly, I must inform you that our classmate, Douglas Allen "Fab" Foltz passed away on March 5th, 2020. Doug was known by all of us as a, fun-loving, good natured guy who we will never forget. Doug gave a lot, loved a lot, and made the world a happier place. We, the Class of 1962 offer our heartfelt condolences and our prayers to Doug's family.
The following is a summary taken from his obituary in the Winston Salem Journal: Doug Foltz was born December 11th, 1942 to Ransom Eugene and Helen Carroll Foltz. He grew up as a member of Ardmore Moravian Church and went to RJ Reynolds High School where he played football and became very talented on the guitar . During that time he played with several bands all over the area. His Buddy Hollly songs were legendary.
In 1963, Doug traveled to Big Sur, California, stopping by to say hello to his brother, Larry who was serving on active duty with the Navy. Doug left two years later when his brother's tour was up. While attending Monteray Peninsula Juniour Collewge, Doug starred in the stage production of "Playboy of the Western World". Also, he entertained his friends up and down the coast before finally making his way back to Winston Salem.
Doug heard music no one else could hear and walked in the sunshine with other gentle souls like himself.. He continued to play with bands throughout the Southeasr and wowed audiences with his renditions of songs by Bob Dylan, Ricky Nelson, and the Everly Brothers just to name a few. And who can forget Doug's version of "Shout!"
Doug had a big heart, never met a stranger, was generous to a fault, and gave until it hurt. He taught us all self confidence, loved to ski, ride horses and motorcycles. Doug always loved the beach and beautiful summer weather, the Moravian Lovefeast, his family, and especially his dearest friend, his son, Hollan. He continued to demonstrate his caring nature to all who ever met him. He will always be missed by all those who ever met him.
Doug was predeceased by his parents and younger brother, Mark. He is survived by his son, Hollan, his brothers, Larry and wife Carol of Advance, North Carolina and Steve and wife, Brook of Winston Salem and also by many nieces, nephews and cousins.
As of the date of this obituary, final arrangements have not been settled. In lieu of flowers, memorial contributions may be made to a charity of your choise. Online condolences may be made at www.salemfn.com. . Salem Funeral and Cremation Services is handling the arrangement.
Fab, old friend, rest in peace!