R J Reynolds Senior High School
Class Of 1962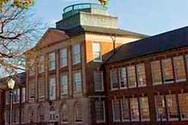 In Memory
J. H. (Jim) Fitzgerald VIEW PROFILE
The Winston Salem Journal reports that James Harris "Jim" Fitzgerald, Jr. , age 68, a resident of High Point, passed away Saturday, November 24, 2012. He was born in Forsyth County, NC on July 25, 1944 to the late James Harris Fitzgerald and Ruth Hill Fitzgerald. He graduated from N.C. State University in 1964 with a degree in Mechanical Engineering. He retired from R.J.Reynolds in Winston Salem.
Jim's dream car was his Corvette, and he loved to work in his yard. On February 27, 2003, he was married to Edith Blackwell who survives Jim and resides at the home. Also surviving are his children, Deanna Barefoot and her husband Shane of Coats, NC; Melissa Peacock and her husband Todd of the home; Tony Piper and his wife, Debbie of Greensboro and Brooke Manning of East Bend, NC. Also surviving is Jim's brother, Robert Fitzgerald of Raleigh, NC and seven grandchildren.
A service to celebrate Jim's life is to be held at 2 pm, Tuesday, November 27, 2012 at the Chapel of the Crumby Family Funeral Service in High Point with Reverend Eric Peacock officiating. The family will see friends from 1:00 pm until the time of the service on Tuesday at the funeral home. Memorials in JIm's memory may be sent to Hospice and Pallative Care, 101 Hospice Lane, Winston Salem, NC 27103. Online condolences may be made at www.cumbyfuneral.com. Arrangements by Cumby Family Funeral Service of High Point.
-Don Byerly and I remember Jim Fitzgerald from high school as being a really nice, friendly guy. The RJR Class of 62' sends its prayers out to Jim's family and friends as they mourn the loss of their loved one and our classmate, JIm Fitzgerald. -Danny Ferguson
Click here to see J.H. (Jim)'s last Profile entry.