R J Reynolds Senior High School
Class Of 1962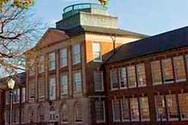 In Memory
Linda Edwards (Upshaw)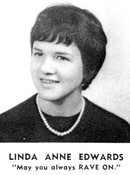 Linda Anne Upshaw
DATE OF BIRTH: December 31, 1943
DATE OF DEATH: October 20, 1971
BURIAL DATE: Unknown
SPOUSE: Arthur McAllen Upshaw, III
PARENTS: Wilson Edward Edwards and Shirley Elizabeth Snyder Edwards
CHOIR: MS
CONGREGATION: Ardmore Moravian Church
BURIAL NOTES: Wife of Arthur M. Upshaw, III. "Oh, wilderness were paradise enow."
SQUARE: 1DD
ROW: 05
GRAVE: 01
I found a copy of the above marker on line and decided to put it on the 'in memory' section of our website. In high school Linda was a good friend who was very sweet and nice to everyone. I know she has been missed.
Danny Ferguson