R J Reynolds Senior High School
Class Of 1962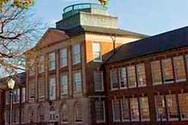 In Memory
Judy H. Hamrick (Dixon)
Dear RJR62 Classmates,
With my deepest regret, I report to you that our own Judy Hamrick Dixon has passed away. Yesterday, I received an email from Cathy Trayor Sink who had not only been a Wiley school teacher along with Judy Hamrick, but also before that had been a fellow Wiley school student with Judy. The e-mail informed me of Judy's death. I personally go back to probably the second grade with Judy and remember those Wiley school days quite well. She always had a wonderful smile and was a great friend to everyone. Back then, ever so often the class would vote on superlatives, like kindest, smartest, friendliness etc. Judy always won the "kindest" and that is because she was then and always remained a very kind, nice person. Even today, when I think of the word - "kind" - I think of Judy.
Judy's obituary appears in the 3/1/19 Journal. I will summarize it: Judy was born May 6th, 1944 and passed away on February 26, 2019. Her parents were Paul and Rosella Hamrick. Her faith was rooted in the Quaker Church and was a Friends member for many years. Also, she became a member of Parkway United Church of Christ. She attended Meredith College, where she studied elementary education. In the late 1960's she served with the Peace Corps in Columbia South America. Upon her return to the states, she attended UNC-Chapel Hill and received her masters in reading education in 1972. She began her teaching career at New Gardens Friends chool in Greensboro, NC. In 1979, she began teaching in Winston Salem and ended up back at dear ole' Wiley School as a curriculum coordinator until her retirement in 2007. Her career was rich as educaiton and teaching was her true passion.
After retiring, Judy traveled for many months with her husband Philip, exploring the country in their RV. Judy was preceded in death by her father, Paul, Sr. and her mother Rose. She is survived by her husband of 42 years, Philip Dixon of Winston Salem; one son, Paul Dixon and wife Amy of Winston Salem; one brother, Paul Dixon, Jr. and wife Annona of Houston, Texas; and several cousins and extended family members.
The family extends their special thanks to the nurses and staff at Oak Forest Health, Hospice & Palative Care and also to devoted caregiver Lesbia Castillo. A memorial and celebration of life will be held on Saturday, March 9, 2019 at 3 pm at Parkway United Church of Christ. All family, friends, colleagues, and neighbors are welcome to attend. In lieu of flowers, donations can be made to the Alzheimer's Association or Kate B. Reynolds Hospice Home of Forsyth County.
Respectfully submitted,